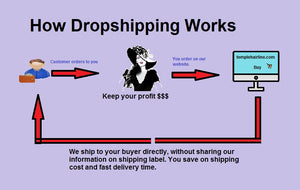 Understanding of Dropshipping Business.
Dropshipping is a new business model in e-commence business, it allows sellers to sell products that they do not actually own. And the dropshippers will send the items to their customers directly in the name of the seller, without sharing seller information on shipping labels.
This is very simple, right ? If you are not sure, you can see the picture below. It clearly shows us how does dropshipping works.
Advantage is obviously that there is NO inventory No Shop. No inventory means you don't have to pay for the rental of shop or warehouse and the cost of the management staff (for traditional retailers).
Avoid the wholesale model. It does not limit the amount and amount, even if only one product dropshippers will send it directly to your customers. This is very beneficial for novice sellers.
Less capital investment. This is because you don't have to pay any other fees (warehouse rental fees, manager's salary, etc.). And you don't need to buy a lot of products to get a wholesale price.
Low risk. This is obvious, you don't need to invest too much money, and you don't need to save the inventory of the product. There is no need to worry about the shortage of funds caused by the inventory backlog.
Dropshipping has many other advantages, for example save time, easy to start, provide consumers with more choices, and more. After saying so many advantages of dropshipping
---