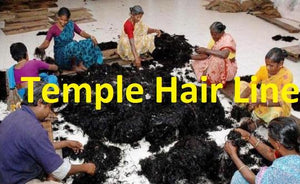 The Real Story Behind Where Your Hair Extensions Come From
India & Holy Rituals
"Many Chinese-made hair extensions are falsely marketed as Indian hair. Indian hair, with its thick, dark, slightly wavy texture, is very popular in the hair extension industry. In addition to the luxurious texture, Indian hair is plentiful: Hindu Indians cut their hair as part of a ritual sacrifice to God. In a country of more than a billion people willing to sacrifice their hair for blessing, there's never a shortage.
"Every day, thousands of pilgrims visit community temples throughout India, waiting in lines for hours to donate their hair. Women, men and children of all ages shave their heads as a symbol of washing away one's past and starting anew. Hindus believe if they sacrifice their hair to the gods — some do it yearly and others do it just once — their prayers will be answered. 
"Temples hold private auctions to sell the hair to vendors. They use the profits to fund community projects like housing, education and health care. India's poverty level, much like Cambodia's, is overwhelming and heartbreaking to witness, but I couldn't find a single person who said she would cut her hair for personal profit."
China Hair
The largest exporter of human hair in the world. China can reproduce almost anything — and hair is no exception. Chinese hair is often considered cheap in the extensions industry because it isn't donated hair, so in order to be on the same playing field as other exporters, they will market it as Brazilian or Malaysian hair, which can go for twice the money. 
"China imports fallen hair, also referred to as non-Remy hair, from India. Fallen hair is dead hair that naturally sheds and is collected from hair salons and hairbrushes. Because the hair's quality has been jeopardized and matting is likely to occur, non-Remy hair is less desirable in the extensions industry. But China collects this hair, cleans it and mislabels it as being from a higher-quality hair extension source like Brazil, Russia or India. 
"If you're shopping for extensions, and they say they're shipped from China, it's probably Chinese hair masquerading as something else. One hair distributor taught me to pay attention to the smell: Fallen hair has a smell of acid and silicone that's easily recognizable." 
---